AKJ Automotive India 2016
Logistics and Supply Chain Management in the Automotive Industry.
1st International Conference of the AKJ Automotive Group India

AUTOMOTIVE IN INDIA TODAY and TOMORROW - STEPS TO ACHIEVE SUCCESS 2016+ IN THE PRODUCT AND VALUE CHAIN FROM OEM, TIER-1 TO TIER-N SUPPLIERS
Automotive Conference in Chennai 18th/19th of October 2017
Deadline for Registration - 11th of October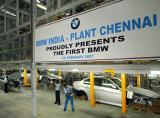 Carmakers, suppliers, service providers with speakers from India, Germany, Hungary will present strategies for design and control of agile supply chains with the know-how to enhance Indian and worldwide automotive business: AKJ Automotive, Bharat (Daimler), BMW, Bosch, DB Schenker, Continental, Great Lakes Institute of Management, IPL Institute for Production and Logistics, Pan Asia, Price Waterhouse Coopers, Rhenus, SMR Automotive, University of Applied Sciences Saar, Volkswagen, ZF Hero and others.
18th and 19th of October 2016 in Chennai
| | |
| --- | --- |
| The automotive industry in India is growing fast and offers both Indian suppliers and global car manufacturers possibilities for new and better business. Industry experts and logistics service providers will get opportunity to discuss the future of the automotive supply chain at the AKJ Automotive conference in Chennai, October 18th/19th 2016. The conference is a must for professionals, looking for solutions to improve logistics or to design localization strategies in India. | Furthermore, benchmark live visits will offer a special occasion to see the production sites of BMW, Bharat (Daimler) and Ford. The conference is aimed at industry professionals from automobile manufacturers, logistics service providers and suppliers with interest in optimization of automotive supply chains. Also members from universities and research institutions will be able to learn about latest supply chain issues and may enlarge their industry network. |
Conference Hotel
Plant visits 19th of October
- BMW Plant - 19th of October 13:00 to 17:00
- Daimler Plant - 19th of October, 13:00 to 17:00

PROGRAM TOPICS
Learn strategies applied by global and local companies
Drive Industry 4.0 and Digitalization Automotive
Share best practices to improve efficiency and innovation
Strategies to improve and help suppliers for additional projects
Forecast of growth of the automotive sector in the next years
Technological trends of the automotive sector around the world
Implementation and use of technology for production optimization
Business meetings with OEMs, Tier-1 and service companies
New business opportunities with new business contacts
Integrated cooperation amoung supply chain actors
How to manage the future cooperations between OEM and suppliers?
Which strategies and projects are needed for more efficiency?
How can we drive benchmarks and use the potentials?
Learn more about the best practices in automotive industry for product engineering, logistics, manufacturing and information technology - discuss with executive managers and professionels about future factors of success.
Organizational Partners
AKJ Automotive
Logistics and Production at the automotive industrie
BMW Group
Bayrische Motorenwerke
GfPM e.V. - Gesellschaft für Produktions-Management e.V.
IPL- Institute for Production and Logistics
Premium Sponsors
Last modification at 18.10.2016